REASON WHY YOU STOP EATING BISCUITS IMMEDIATELY
It goes without a word that every household takes biscuits. Biscuits are sweet yummy short cakes, taken as snacks. Mostly, taken by children but still that does not limit adults.
Biscuits are a source of energy, and gor children they can sound as a piece of enticement, award or snacks to pass time. However, do you know know what biscuits do to your body? Here is what you should know about biscuits;
1. It can lead to constipation.
2. It can destroy your memory. This is because the fat in refined foods can affect memory.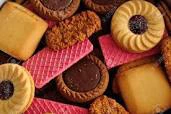 3. It may result in malnutrition. The reason is that biscuits do not have nutrients. This could lead to difficulty in digestion.
You need to avoid too many biscuits because they are high in fats and low in fiber.
4. You risk your teeth. Do you realize the cost of seeking dental care services can be expensive. Better still if you can afford, do you figure out having broken or toothache?
The truth is nobody can enjoy that. Considering biscuits are mostly sugarly, you risk your teeth. Ensure you take less of the snacks.
Facebook Comments