YOU WILL BE KILLED, RUTO WARNED.
President William Ruto has been reminded of a leader who was killed by his own subjects because of imposing heavy taxes on him.
Political analyst Prof Mutahi Ngunyi has been forced to go into the bible to revisit the leadership of popular kings.
He revisited the story of King ing Rehoboam, Son of Solomon, who he described as a foolish king, who decided to levy heavy taxes on people after they asked him to bring down the taxes, and in the end, he was killed.
Prof Mutahi Ngunyi has used this story of the bible to ask President Ruto to listen to the cries of the people so that he does not end up overtaxing Kenyans.
"The Bible SAYS: King Rehoboam, Son of Solomon was FOOLISH. People CRIED to him to REDUCE taxes. He replied: "If the TAXES of my father Solomon were HEAVY. I will make them HEAVIER. If he INJURED you with WHIPS, I will use SCORPIONS" They KILLED him. Dear Ruto LISTEN to the PEOPLE," he said.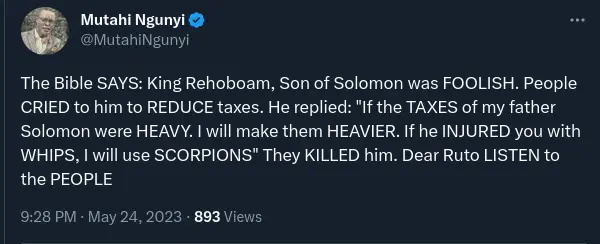 When you read the bubble, the book of 1 Kings from chapter 12, the holy book talks about how the people went to King Rehoboam, Son of Solomon and begged him to lower the taxes. His father had overtaxed people to finance the building he was setting up, so people wanted a break from the heavy taxes.
However, Rehoboam told his taxmen that they should not take less than what his father took from the people as tax, in fact, increased the taxes.
The Bible says he was eventually assassinated by the same people he was ruling over.
Prof Mutahi Ngunyi wants President Ruto to make reference to this story and reduce the taxes.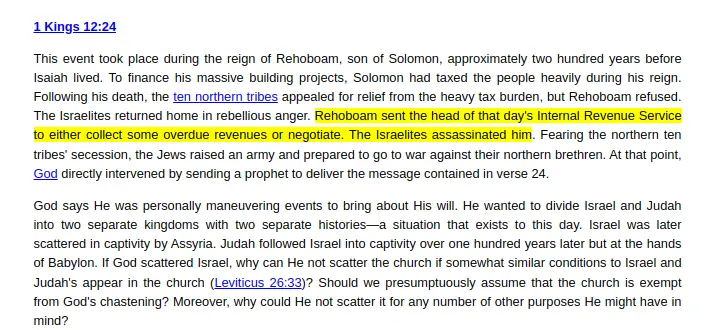 Facebook Comments