PRESIDENT RUNS AWAY FROM STATE HOUSE AFTER ATTACK
It has long been normal for the newly elected president of Kenya to travel to State House in Nairobi, where they may oversee daily operations of the executive branch.
All past Heads of State, with the exception of the first President, Mzee Jomo Kenyatta, have lived there since taking office: Daniel Moi, Mwai Kibaki, and the current President, Uhuru Kenyatta.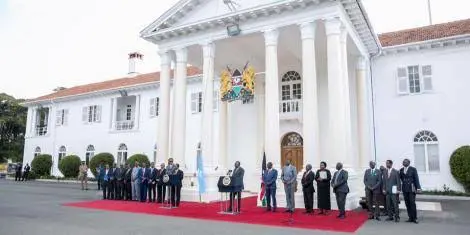 Duncan Ndegwa, a close friend of Mzee Kenyatta, claimed that during his 14-year rule, the founding president only stayed one night at State House—in January 1969.
Even so, several people who were familiar with him claimed that he didn't get a wink of sleep that night, necessitating the middle-of-the-night transportation of his assistants home to Gatundu.
Mr. Ndegwa revealed that Mzee Kenyatta's lack of sleeping at State House stood out among other factors that set him apart from the other founding presidents.
In the House on the Hill, Kenyatta allegedly refused to sleep because he said there were "ghosts of white people" and frogs" that croaked all night, according to Ndegwa, quoted by Kenyans.co.ke.
Story courtesy
Facebook Comments