Mohammed Ali Sells Kenyatta's Properties.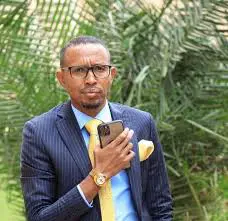 Mohammed Ali is the member of parliament for Nyali constituency in Mombasa county, he is serving his second term as a legislator having been elected first in 2017 and retained his seat last year using the United Democratic Alliance ticket.
Kenyatta family which owns the Brookside daily milk company took the member of parliament to court last year, Mohammed Ali had made public allegations that the giant milk company is exploiting farmers by buying milk cheaply from them and later sell it at high prices.
The court has made a decision to dismiss the case against the Nyali legislator and in return the court has asked Brookside to pay the legislator Ksh. 500,501, an additional Ksh. 950 and Ksh. 1500 collection fees.
The court has given Mohammed Ali a goahead to sell several properties owned by the company, they include: forty cows estimated to be Ksh. 150,000, cooling plant estimated to be Ksh. 400,000, computers estimated to be Ksh.20,000, seven reception seats at Ksh. 6,000, office desks at Ksh. 21,000, office chairs at Ksh. 20,000 and printers worth Ksh. 14,000.
Facebook Comments