Passengers and Driver Burnt Beyond Recognition in Bungoma
A lorry driver was on Wednesday morning burnt beyond recognition after the petroleum tanker he was diving exploded at Sikata area along Webuye-Malaba Highway.
According to reports, the driver who was headed to Malaba from Webuye, lost control and hit a transformer before the tanker burst into flames. Firefighters are currently at the scene.
Traffic along the busy highway was disrupted for many hours as the firefighters tried to put off the flames that engulf the whole tanker.
This is not the first time such an accident is witnessed in the area. Webuye-Bungoma highway has been notorious for trucks bursting into flames after nasty accidents.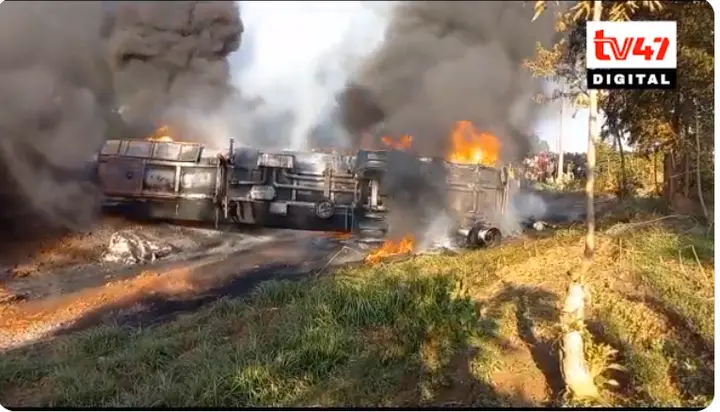 In 2021 a petrol tanker burst into flames after colliding with a matatu at Mukhonje on Eldoret-Webuye road. Several passengers were killed as others suffered injuries.
On March 2022, one person died and several others dead after two fuel tankers collided and burst into a ball of flames at Mukhonje market along the Webuye-Eldoret Highway.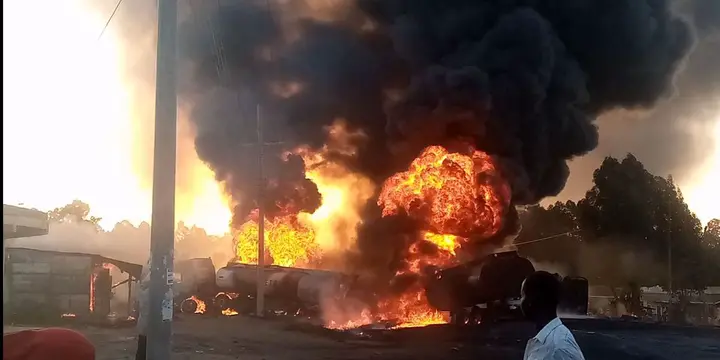 The dead person was a boda-boda rider who fell on one of the trucks that were burnt beyond recognition.
The tanker was said to have been over-speeding, according to eyewitness accounts, before losing control.
Facebook Comments