LIST OF TYCOONS FUNDING RAILA'S RALLIES
He claims that the same individuals are now supporting Raila to hold protests in Nairobi after he lost the election last year.
He asserts that the same individuals who opposed President William Ruto's victory are now attempting to destabilize the administration through Raila.
But the legislator has forecast doom for the aforementioned effort to upset the administration, advising Raila to forget about making the nation unruly.
"Those who did not accept defeat in the 2022 elections are funding the current protests organized by Raila, but they will not destabilize the administration," a Ruto friend told The Standard.
His observation came one week after Embu Governor Cecily Mbarire and Tharaka Nithi County Governor Muthomi Njuki indirectly implied that former President Uhuru Kenyatta was among these individuals.
Last weekend, while accompanying Ruto to Kirinyaga, the two feared that Uhuru was among the tycoons funding Raila in order to create problems for Ruto.
In his final official broadcast address after the Supreme Court affirmed Ruto's victory, Uhuru publicly disagreed with the results and suggested that Raila's elimination was contrived.
In response to Sudi's words, Raila's allies have pledged to continue their efforts and have warned the government that it has very difficult times ahead.
"What we have begun, the Kamukunji march, was child's play compared to what will occur today, and the protests will continue." This is for the Kenyans' benefit.
"The constitution affords us the opportunity to demonstrate, and we will do so in greater numbers in the coming days," Minority Leader of the National Assembly Opiyo Wandiyi states.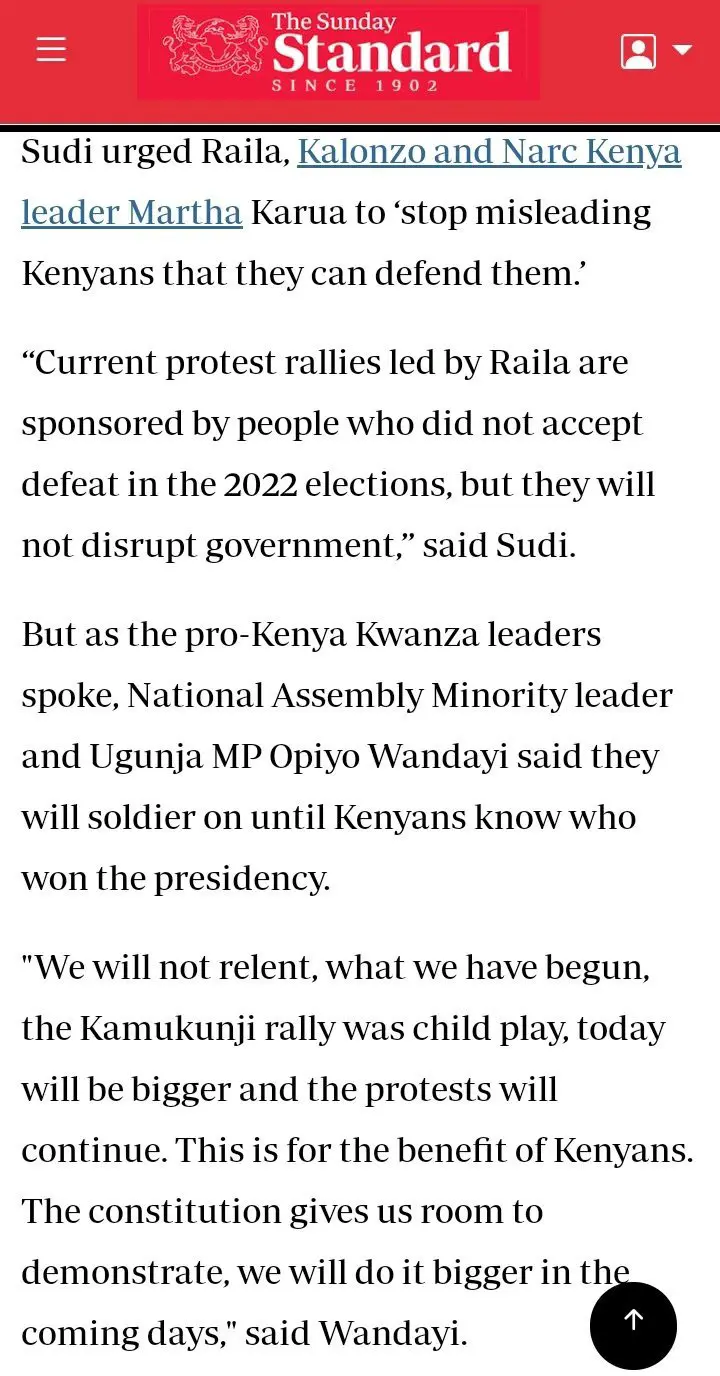 Sourced from the standard
Facebook Comments