CHIEF JUSTICE ENDORSES ANTI-GOVERNMENT PROTEST
Kenyans today are on the road for protest. Dr Willy M Mutunga, who was the Chief Justice of Kenya between 2011 to 2016 seems to be supporting tomorrow's demonstration.
While endorsing #RejectTheFinanceBill2023, Dr Mutunga "Thank you for adding to the days of resistance to and defiance of dictatorship: SITA SITA joins SABA SABA, NANE NANE, TISA TISA, KUMI KUMI, MBILI TATU (demos after JM's murder)."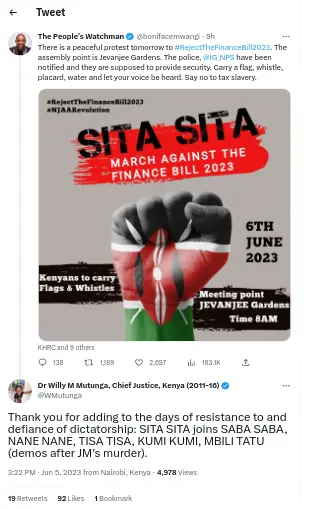 Boniface Mwangi's Twitter post read, "There is a peaceful protest tomorrow to #RejectTheFinanceBill2023.
The assembly point is Jevanjee Gardens. The police, @IG_NPS have been notified and they are supposed to provide security. Carry a flag, whistle, placard, and water and let your voice be heard. Say no to tax slavery."
Engineered by the self-proclaimed The People's Watchman, Boniface Mwangi, the expected to-be peaceful protest dubbed #RejectTheFinanceBill2023 is currently underway at Jevanjee Gardens.
The National Police Service has not so far responded on whether today's demonstration will take place nor acknowledged the said notification.
Yesterday evening, Njeri Mwangi and Okiya Omtatah drummed support for today's protests in Mathare where they engaged the members of the public.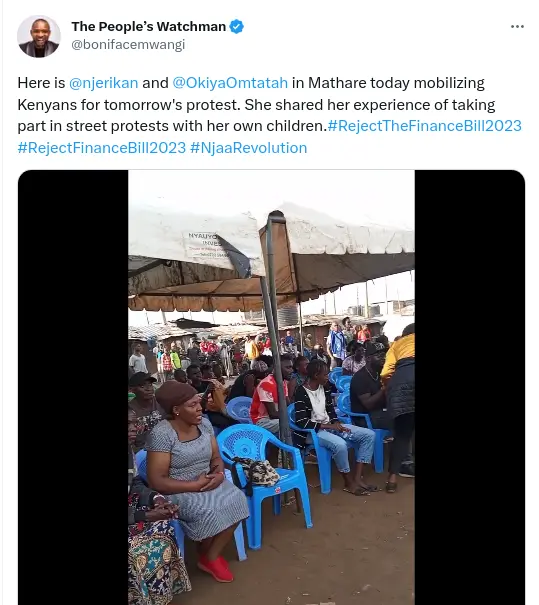 "Here is @njerikan and @OkiyaOmtatah in Mathare today mobilizing Kenyans for tomorrow's protest. She shared her experience of taking part in street protests with her own children.#RejectTheFinanceBill2023 #RejectFinanceBill2023 #NjaaRevolution", The People's Watchman @bonifacemwangi, also added on his Twitter timeline.

Facebook Comments