Students Dead After School Bus Got Involved in a Grisly Accident
In recent days, a disturbing surge in road accidents has tightened its grip on the nation, leaving behind a trail of tragedy, severe injuries, and emotional trauma for countless individuals across various regions. These heart-wrenching incidents have ignited a clarion call for immediate and improved road safety measures to be put in place.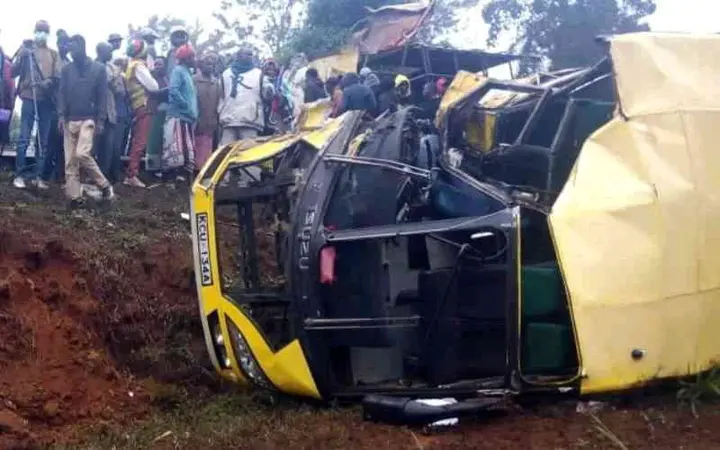 The most recent of these poignant incidents unfolded in the serene and picturesque Kamatira area of West Pokot County, unleashing shockwaves that reverberated not only through the local community but also across the entire nation. The school bus, a symbol of youthful hope, became entangled in a nightmare of metal and chaos, serving as a grim reminder of the urgent necessity for fortified road safety protocols.
Reports of the calamitous events that transpired near the notorious Kamatira blackspot along the Kitale-Lodwar Highway recount a chilling tale. The school bus, packed with eager students, was suddenly thrust into a horrifying road accident that etched an indelible mark on the memories of all who bore witness.
According to these reports, the bus lost control in a heart-stopping moment, hurtling off the road and somersaulting repeatedly amidst the dense foliage of the Kamatira forest.
The sheer force of the collision inflicted grievous injuries upon multiple passengers, though, mercifully, there were no reported fatalities. The injured were swiftly transported to the West Pokot Referral Hospital, where they are now receiving the vital medical attention and compassionate care they require.
Responding to this gut-wrenching incident, local authorities have promptly launched a comprehensive investigation. Their dedicated efforts are concentrated on unearthing the underlying causes of this catastrophic road accident, with the aim of preventing such tragedies in the future.
As we extend our heartfelt wishes for the swift and complete recovery of the victims in this trying hour, we invite you to contribute your reflections and viewpoints on this devastating occurrence. By sharing your insights, you play a role in amplifying awareness about the imperative significance of road safety within our communities. Stay tuned for further updates as the investigation into this ongoing tragedy unfolds.
Facebook Comments