Matatu With Passengers Gets Bombed
Shocking news has hit the media houses concerning a PSV vehicle that was bombed on Saturday, September 16.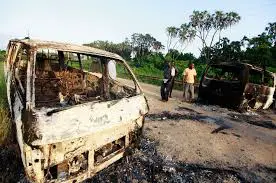 The perpetrators of this shocking attack are suspected to be Al Shabaab militants who have been launching attacks for years in the Northern parts of the country.
According to reports, the PSV vehicle was ferrying passengers from Wajir to Mandera when it encountered an IED between Alunga and Elwak towns. A terrifying explosion occurred and the vehicle allegedly burst into flames.
The driver of the vehicle died instantly. The passengers in the vehicle also sustained serious injuries and were rushed to Mandera Level Five Hospital.
The explosive was an improvised bomb which is suspected to have been installed by Al Shabaab militants to attack the police who have been patrolling the area to combat terrorism.
Facebook Comments