UHURU DROPS A POWERFUL MESSAGE AFTER MEETING THESE LEADERS
His Excellency (Rtd) President Uhuru Kenyatta, the Facilitator of the East African Community (EAC)-led Nairobi Peace Process has articulated that he today met with the French Ambassador to Kenya, H.E Arnaud Suquet, who paid him a courtesy call.
Uhuru Kenyatta has underscored that Amb. Suquet lauded him on the milestones achieved through the Nairobi process and the continued collaboration with the Luanda process to restore lasting Peace and Stability in eastern Democratic Republic of Congo (DRC).
Uhuru Kenyatta has divulged that he credited the progress of the process to the commitment of involved parties in ending the over two-decade dire situation and finding a lasting solution to the disputes.
Uhuru Kenyatta further disclosed that the ambassador assured him of France's continued support of this process, which is vital for restoring Peace and Stability in Eastern DRC.
What are your thoughts on Uhuru Kenyatta's evening sentiments? Please share your thoughts, feelings and ideas with us on the comments section.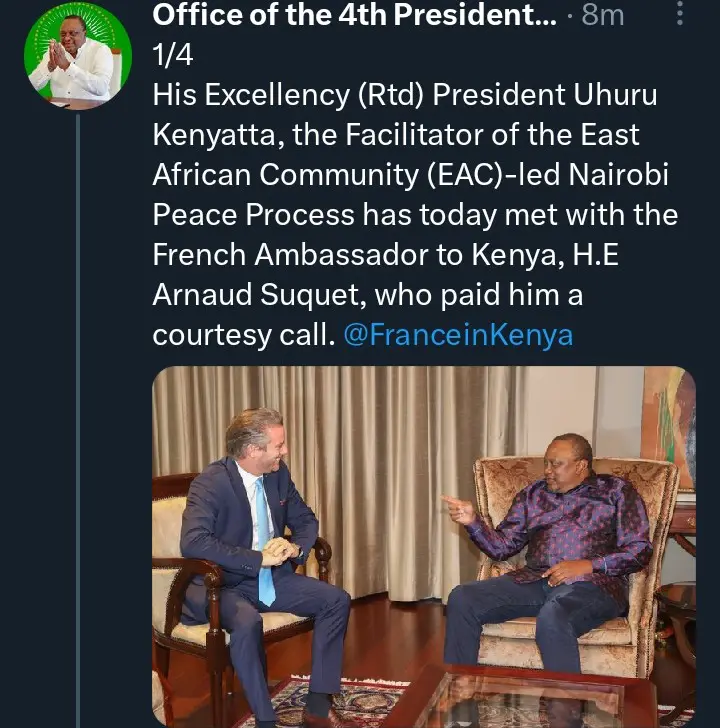 Story courtesy
Facebook Comments