Sakaja Forced to Succumb to Pressure
Just days following Nairobi Governor Johnston Sakaja's directive to clear the streets of hawkers, an unexpected development has taken place in the heart of the city.
Rather than witnessing a decline, the number of vendors has surged, creating a conspicuous presence within the city center.
The streets, alleys, and sidewalks have now been conspicuously overrun by these traders who boldly conduct their businesses in the full view of the county askaris, the very personnel tasked with enforcing the governor's directive.
Reportedly, the hawkers commence their activities as early as 6 am, leading to a pressing set of questions that demand answers.
Has the governor's order been entirely disregarded by the hawkers? Could it be possible that he succumbed to pressure exerted by both the hawkers themselves and political leaders who openly criticized his initial directive?
Perhaps, it is time for the county authorities to contemplate and formulate a fresh approach to re-establishing order within the central business districts of Nairobi.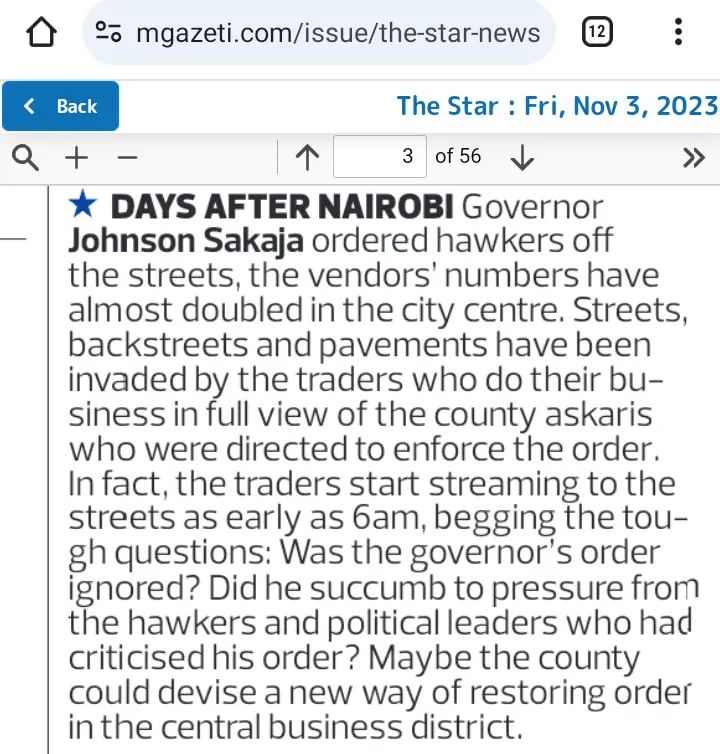 Facebook Comments