POWERFUL LEADER LANDS IN THE COUNTRY TO SPEAK TO RUTO AND RAILA
Another world leader is set to land in the country and hold talks with the head of state President William Ruto. This is according to the latest information shared by Cabinet Secretary for Trade Moses Kuria who is currently out of the country.
Moses Kuria is currently leading a Kenyan delagation in Indonesia and has announced an upcoming visit by Indonesian President Joko Widodo to the country.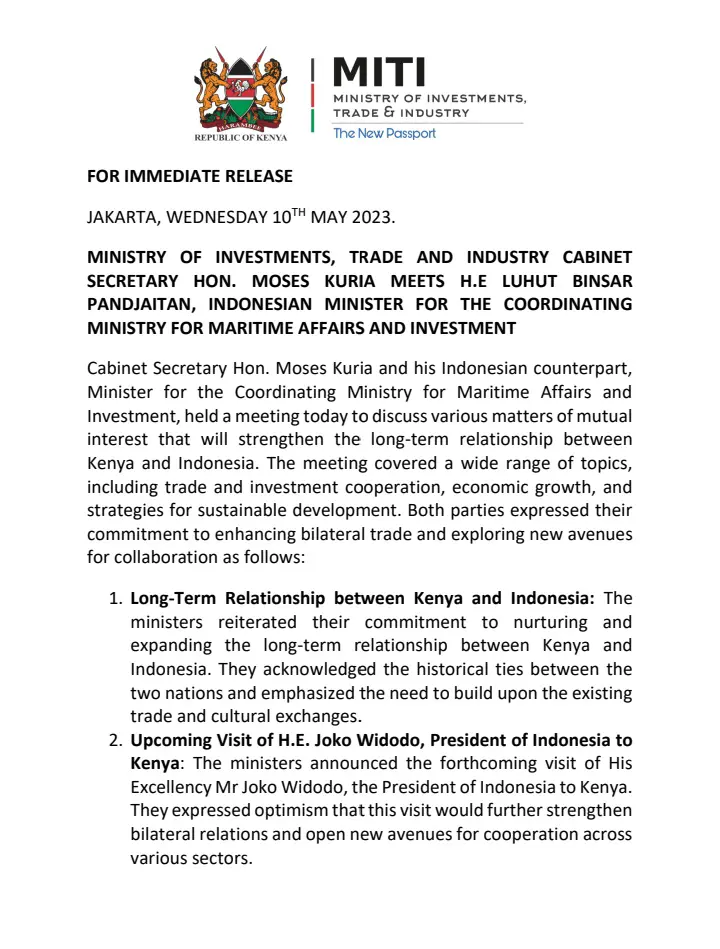 The visit according to Kuria will further strengthen bilateral relations and open new avenues for cooperation across various sectors.
The announcement of the upcoming visit by the Indonesian President comes only few days after Ruto hosted a number of high profile visitors in the country.
The head of state hosted the Japanese Prime Minister Fumio Kishinda, German Chancellor Olaf Scholz, United Nations Secretary General Antonio Gutteres and a number of other high profile leaders at the state house.
Ruto himself is currently out of the country and had visited London, Netherlands and is currently in Israel where he is set to conclude his foreign trip before returning to Kenya.
Story courtesy
Facebook Comments