FULL LIST OF RUTO'S APPOINTED PSs
ODM politician and Narok Senator Ledama Ole Kina has now alleged that he already know 6 Permanent secretaries that have been secretly appointed by President William Ruto.
He alleges that the President is already having the list of 49 permanent secretaries that he wants to be in his government while taking a swipe at those alleged to be bribing their way to be appointed as PS's.
He argues that the rest are just formalities while alleging that he knows 6 people who have already been appointed by the President.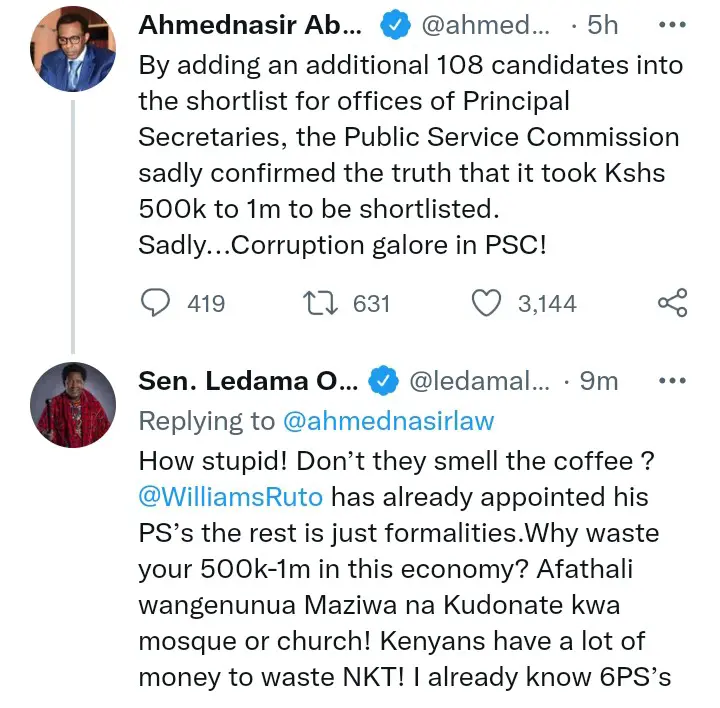 Senior Counsel Ahmednasir Abdulahi had alleged that some people were bribing their way to be appointed as Permanent Secretaries but Ledama wondered why someone would waste his money when already Ruto had his list.
"Don't they smell the coffee ? Williams Ruto has already appointed his PS's the rest is just formalities.Why waste your 500,000- 1milion shillings in this economy?" Read part of the tweet shared by Ledama.
President William Ruto is seeking to have 49 Permanent Secretaries in a move many see as a method to reward his loyal friends. Currently there are 44 PS's.
The Public Service Commission today adjusted the list it had published yesterday of 477 names shortlisted for PS interviews. It has added 108 names.
Story courtesy
Facebook Comments