AZIMIO TEAM SUFFERS A MAJOR DEFEAT
An afternoon sitting in parliament has turned dramatic after a hot contestation arose on which side between Kenya Kwanza Alliance and Azimio coalition has the majority of members.
Members of parliament who align themselves with the Azimio coalition have suffered first major defeat after Speaker Moses Wetangula dismissed a document that was tabled by Suna East MP, Junet Mohamed.
Junet forwarded the document to the speaker as a proof that, some political parties which are currently associating themselves with Ruto's-led Kenya Kwanza Alliance, had indeed signed a coalition agreement with Azimio.
These parties include; Maendeleo Chap Chap, Pamoja African Alliance, MDG, UDM among others.
In a ruling made by the speaker, Wetangula said that the document forwarded by Junet was inadmissible as it lacked certain features that are used to authenticate a legal document.
Wetangula further stated that the document also included some blank pages. The speaker warned the Suna East MP that next time he tables a document before the speaker he should ensure it can be authenticated.
"I want to confirm that I have gone through the document forwarded by Junet Mohamed and I must say it's inadmissible. It lacks legal features for authentication purposes. I therefore rule that the document will not be used in making the final decision," ruled the speaker. (Watch video from 39 min).
The speaker is expected to make a determination on which political side will form the majority in the 13th parliament.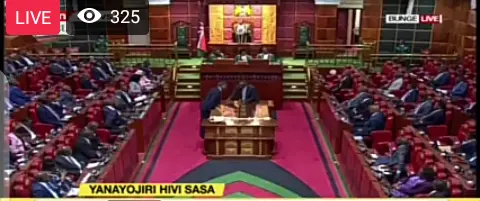 Story courtesy
Facebook Comments